Honda History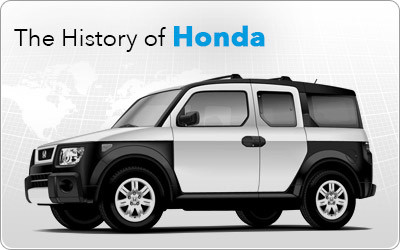 Every company has a story. Sometimes it's nice to know some background about a company before you buy a product from them. Honda has a rich history in the automotive industry. The list below offers some facts and details surrounding the Honda History:
- Honda was founded in 1948 by Soichiro Honda in Japan
- Soichiro Honda was born in 1906 in Komyo Village in Japan
- Honda learned all he needed to know about cars while working as an apprentice at Art Shokai, an automobile servicing company. There he gained lots of practice repairing cars, particularly the engines. He eventually grew tired of simply repairing cars and transitioned into manufacturing and inventing them.
- Honda was colorblind, which allowed him to avoid being drafted into the military and gave him more time to work on his passion – cars
- The first product to carry the Honda name was not a car, however, but a motorcycle. But it was less like a motorcycle and more like a bike with an engine attached to it. It was called the Honda A-Type, and it hit the shelves in November 1947.
- On September 24, 1948, Honda Motor Company became an incorporated entity. The company was capitalized at 1 million yen and boasted a total of 34 employees, including Soichiro Honda
- The first traditional motorcycle Honda made was the Dream D-Type in 1949. This motorcycle propelled Honda to the top of the bestseller list – they were the world's top motorcycle manufacturer by 1964
- The American Honda Motor Company was founded in 1959 as Honda's first overseas subsidiary
For a more complete timelime and stories about the history of Honda, visit the Honda Heritage page for their 50th anniversary.