Certified Pre-Owned Honda Program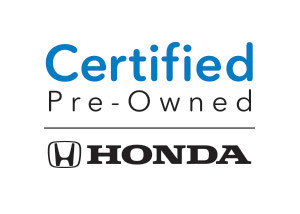 Thinking about buying a used Honda? Be sure to reap the benefits of the Honda Certified Pre-Owned program!
Sometimes buying a used car can cause some anxiety. You never know where a car has been, or how reliable it will be when you drive it off the lot. Luckily, Honda has created the Certified Pre-Owned program to combat the stress buying a used car can cause. Honda Certified Pre-Owned vehicles go through a background check of sorts, so you know that your used Honda will serve you well.
Every Honda Certified Pre-Owned vehicle comes with a 7 year/100,000 mile (whichever comes first) powertrain limited warranty. The warranty covers any engine, drive system, and transmission issues – Honda will repair or replace these items for free!
Honda knows that it's what's on the inside that counts. That's why they put every used Honda vehicle through a multi-point inspection to ensure the vehicle's quality and reliability. If it doesn't meet Honda's standards, then it doesn't graduate to Honda Certified Pre-Owned.
- What's included in the inspection? The car's brakes, transmission, engine, steering, suspension, and tires are checked, as well as its exterior and interior.
Finally, each vehicle comes with a free Vehicle History Report, so you know where your car has been.
Honda Care
If you are still hesitant about buying a used Honda, you can add Honda Care® Certified Additional Coverage for to your Certified Pre-Owned vehicle for some peace of mind.
- All Certified Pre-Owned vehicles qualify
- Choose a range of plans, from 7 years/100,000 miles to 8 years/120,000 miles (whichever comes first)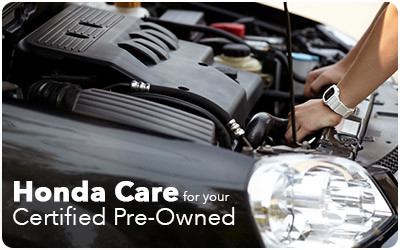 - Benefits:
-- Concierge Emergency Service*
-- Personalized Travel Plan*
-- Roadside Assistance* – including tire change, battery jump-start, and fuel delivery
-- Lock-Out Assistance*
-- Towing*
-- Trip-Interruption benefits*
-- and more!
*From original in-service date
Need more information? Give us a call at 877-865-8944.